Help & FAQ
How quickly will you send the package after my payment is made?I ship items on Mondays, Wednesdays and Fridays. If your order arrives before noon on those days it will be shipped that day. Occasional delays occur. This does not happen often. If this occurs I will send you an email notifying you of the delay. I ship all domestic orders via USPS Priority mail. I ship all international orders via USPS Parcel Post. Of course, if you pay for overnight shipping I will ship the order as soon as the payment arrives Monday-Saturday 9:00 am MST to 4:00pm MST.

Do you ship internationally?
Yes! I ship all international orders via USPS International Parcel Post Mail. International items are tracked by the Custom's Form Number only. Should the product not arrive in a timely manner I will be happy to supply you with that number, but it will be up to you to deal with your Custom's Agency to determine what the delay or problem is. I will not be responsible for any items lost or seized by Customs. Please be familiar with what content is acceptable by the laws of your country.

How quickly will I get my order after you have shipped it?
Please allow 3-7 business days for USPS PRIORITY MAIL Domestic delivery.
Please allow 1-6 weeks for USPS International PARCEL POST MAIL shipping.

How can I track my shipment of an order?
My orders are shipped through USPS with the use of delivery confirmation. I ONLY ship USPS PRIORITY MAIL, unless Express Mail is used, for Domestic orders and USPS PARCEL POST MAIL for International orders. While the Post Office does its best to make this sound like a delivery confirmation, it is not a tracking service, it is only useful in determining when the item has arrived. You will receive an email when the items are shipped that will include the delivery confirmation number. This number is only useful for determining whether the Post Office has lost your package. International items are tracked by the Custom's Form Number only. Should the product not arrive in a timely manner it, I will be happy to supply you with the Custom's Form Number but it will be up to you to deal with your Custom's Agency to determine what the delay or problem is. I will not be responsible for any items lost or seized by Customs. Please be familiar with what content is acceptable by the laws of your country.

What is your policy on returning merchandise?
My items are not refundable, due to the ease of copying the DVD's with today's technology. However, I do offer replacement products if it is damaged in transit or an exchange for items that you are not happy with. Please make sure that the problem is not a compatibility issue with your player before returning the package to me. I do not issue refunds for compatibility issues. Please send an email for the replacement procedure. Return postage is not provided. You must pay for return postage. You may ship them back slow boat to China if you choose, however, I suggest that you use delivery confirmation so you know when it has been received by me. When the item is received by me I will send out your exchange that you have asked for at my cost.

What is the quality of the DVDs that you have?
The quality varies. Picture quality is considered good-to-excellent, unless otherwise noted. Just keep in mind that many of these old films may show some signs of deterioration over the years, so please do not expect "PERFECT" quality. We no longer offer returns based on "Quality" as none of the sets we sell are "Digital HD Quality". Ask questions about quality before ordering. I give honest answers to all questions.
What does DVD Compatibility mean?
Most of the DVDs available are Region 0 and in NTSC format some are PAL formatted, I always state if they are in PAL format.If not noted then they are in NTSC format.

Collector's who wish to acquire any DVD from me should take extra care in making sure that it is compatible with their DVD player as NO RETURN or REFUND will be authorized due to incompatibility issues. REPLACEMENT DVD's will only be provided for defective discs. Please check the compatibility of your player before purchase. You can do this at: http://www.videohelp.com/dvdplayers.php. Type in the make and model of your DVD player then check the box that says DVD-r and hit the search button. Scroll down to find out if your player is compatible. If you have a hard time navigating the page just email me with your make and model and I will be more than happy to check it for you. Usually if you buy a cheap player from Wal-mart it will even play PAL format. The more expensive the dvd player the more likely it will have issues playing my DVD's.

The two factors which decide the compatibility between your DVD player and my DVD's are DVD Region and DVD Format.

What is DVD Region?
Regional coding limits which countries that a DVD can be played in. For instance, A Region 4 DVD can only be played in the countries / regions as stated below. Or, a DVD coded for Region 1 (United States & Canada) will not play on DVD player sold in Australia which is restricted to playing region 4 DVDs only.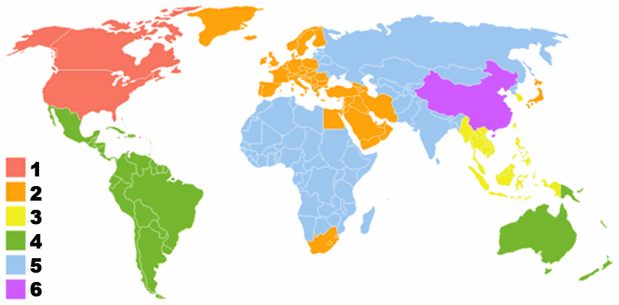 Region 1 - Canada, United States and its Territories
Region 2 - Japan, Europe, South Africa and the Middle East
Region 3 - Southeast Asia and East Asia
Region 4 - Australia, New Zealand, Pacific Islands, Central and South America
Region 5 - Indian Subcontinent, Former Soviet Union and Africa
Region 6 - China
All Regions or Region 0 DVD is playable in any DVD player but since most of my DVDs are NTSC formatted, they are only playable in any DVD player which supports NTSC format. I have found that Magnavox Players even play PAL format. They are very cheap players roughly $25.00 to $35.00 at Wal-Mart or Best Buy.

All Regions or Region 0 also applies to a DVD player, such a DVD player is commonly known as a multi-region DVD player. It is capable of playing DVD's coded in any region. It usually supports both PAL and NTSC format, but old players may only support one format so please check the DVD player manual, or if in doubt, check with the manufacturer.
What is DVD Format?
All of the DVDs available are NTSC formatted, unless otherwise stated.

There are two formats: PAL (Phase Alternate Lines) and NTSC (National Television Standards Committee).
NTSC is used mainly in North America, Japan, Mexico and Canada, and PAL is used almost everywhere else in the world including Australia and New Zealand.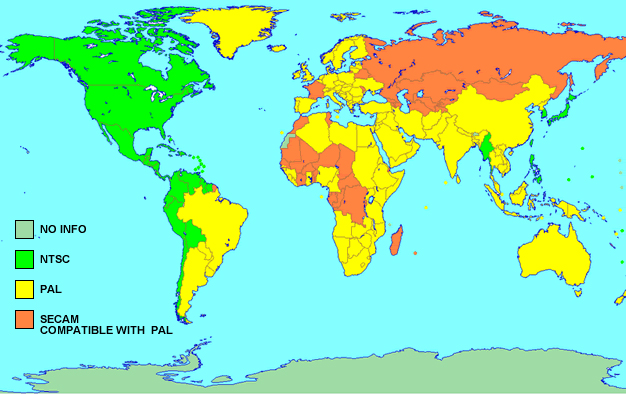 Most televisions and DVD players have been designed over the past few years to support both PAL and NTSC. But say for example if you play a NTSC DVD on a PAL ONLY system, and vice versa, the picture on your monitor will be distorted or skip and scroll on the screen.

Some DVD players have sound problems, garbled, hissing etc. when playing my DVDs. If this occurs you can go to the settings on your DVD player and enable the MPEG audio, usually PCM & MPEG rather than just PCM.

Will DVDs play on my computer?
In general, any computer with a DVD-ROM and relevant software can play DVDs. Please take note that DVD region still applies on DVD-ROM. A new DVD-ROM allows you to change Region coding up to 5 times. Once you have changed the region coding for the 5th time,it will lock itself and disallow you to change the region again.

DVD Format does not apply for computers as most video software support both PAL and NTSC format.

DVD GENERAL INFO

Are all of the DVDs genuine?
The DVD's that are listed here have been thoroughly researched and to my knowledge have been found to be in the Public Domain. I do not deal with items that are currently commercially available in the US and Canada. These films and television programs are from my personal collection and have never been purchased from a commercial source. My collection originates from sources outside the U.S. My collection has been built over the years through trades and purchases from other Classic TV/Movie fans' private collections. I do extensive research making sure that a title is not available commercially in the U.S. If a title becomes available in the US I immediately refrain from offering it to other collectors. If anyone comes across a DVD listed here that they own the rights to, please send a cease and desist notification--with credentials, along with the information necessary to contact you.

All DVDs are recorded on new brand name media. They ALL come with the artwork on the discs themselves, they are not stick on labels they are printable discs. They come with full box art shown and come in Standard DVD cases and are shrink wrapped.

Please remember many countries have strict laws regarding the import of adult, horror, and exploitation videos. I will ship any title you order but I will not be held responsible if your customs department confiscates them. Please be aware of your customs policies before ordering, I do not offer refunds for confiscated materials that you don't receive because you did not check into your customs laws. I do not carry snuff, beastiality films, child porn(including, but not limited to underage actors in adult films) or otherwise banned or illegal material. Do not ask about these types of films, I do not offer them or know of anyone who does.
What is screen format?
To make things easier to understand, I will categorize screen format as two types: Full Frame and Widescreen.

Full Frame (1.33:1) , (1.37:1) will fill your normal TV (4:3) to the fullest.
With Widescreen, there are a few aspect ratio such as 1.78:1, 1.85:1, 1.42:1 and 2.35:1. When this so called Widescreen DVD is played on your normal 4:3 TV, the DVD player will try to maintain the aspect ratio and fill the unused area of the TV screen with black bars above and below.

Depending on the aspect ratio that the player is trying to maintain, the black bars may appear thicker or thinner. For example the black bars for 2.35:1 will be thicker than 1.78:1 because the picture is wider and thinner. Some Widescreen movies are also called Letterbox. Unfortunately there's no standard for how this term is used.

If you own a Widecreen (16:9) TV, your DVD player may be able to automatically stretch the picture to fit your screen to the fullest when you are playing DVD with Widescreen 1.78:1 aspect ratio or 16:9 enhanced.

TROUBLE SHOOTING

Why is there no sound or the sound is garbled or hissing noises are present?
Some early production DVDs may have very low or even no sound. This is not considered a manufacturing default.

If you are having sound problems, garbled, hissing etc. you can go to the settings on your player and enable the MPEG audio, usually PCM & MPEG rather than just PCM. If this does not work then the best course of action is to contact me and I will sort it out for you. If it is indeed a manufactured faulty disc, I will arrange a return for exchange at my cost.

Why the movie pauses for a while when played?
When the disc reader tries to access a different sector on the disc, it may trigger a slight pause which usually last less than 1 second. This is not a defect and it is common to many DVDs, even commercially manufactured DVDs.

The DVD that I just received won't play. What's wrong?
The cause of this can be due to the DVD or DVD player. Quite often the cause of this can be due to discs that have been handled incorrectly (i.e.. fingerprints or scratches on the read surface or discs forcibly removed from their casing causing cracks). It is most unusual for a disc to be faulty in any way when manufactured. There are rare instances of faulty batches which usually result in product recalls. It is therefore imperative that you check for any of these problems before contacting us.

Occasionally discs have been found to not be compatible with certain DVD players especially older players and very expensive models, which is why I encourage you to first check any problem discs on another brand of player, or a computer to ensure that it is indeed a problem with the disc itself.


Can't find the answer to your question? Please feel free to contact us at TimesForgottenTV@aol.com